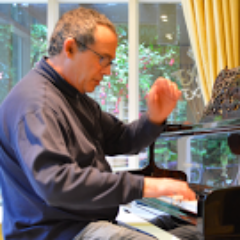 What is your first memory of the piano?
My piano journey began more or less when I was 3 or 4 years old. Movers brought a 1932 5'3" Chickering baby grand to our house. It was a gift from my grandparents.
That piano eventually travelled with me from one coast to another in America, which is where I'm from. It came with me when I arrived in the UK 4 years ago.
Last summer I acquired a new Steingraeber Phoenix 205. It's an amazing instrument. I looked at a lot of pianos in the UK and America  before I selected it. Some of them were very good but none of them had the special, personal "this is the one – this one is it" kind of feeling I was looking for. When I finally met the 205 at Hurstwood Farm Pianos in Surrey it did seem like the one. It's definitely reaffirmed that to me since arriving in my house.
There are more than a few fascinating lessons I learned looking for a piano which I've written up on my blog. Meanwhile, the Chickering has moved to my neighbour's house for new and more family adventures.
Who was your first teacher and what do you recall about your early days of learning about the piano?
My first teacher was a very nice woman in our town in New Jersey. But after not all that long I mostly taught myself. I wasn't systematic or organised in what I learned. It was mostly the Chickering was in the house and I'd play by ear.
From the beginning I had an affinity for jazz. I don't know why or from where or how because I remember hearing Liberace and Victor Borge but not jazz. I also recall trying to pick out bits of the 'Rite of Spring' after hearing a recording of it. But picking out tiny bits of the 'Rite of Spring' was about all I could do.
Do you remember what you liked to play?
'The Joy of Boogie and Blues' was the book that had my interest. When I played the pieces in it with the right spin they sounded like boogie and blues. But I hadn't yet heard real boogie boogie such as Albert Ammons and Pete Johnson used to play. And I didn't know about New-Orleans-style piano playing even though 'The Joy of Boogie and Blues' had pieces in that genre. And of course I didn't know of the great jazz pianists like Art Tatum, Bud Powell, and Bill Evans.
My parents and neighbours used to say I had a "nice touch" when I played boogie-woogie-type things. That phrase resonated with me. I could feel what it meant in my hands. And I could hear how that feeling translated into sound.
Who or what inspired you to start teaching?
While working towards a PhD in composition at the University of Pittsburgh I taught courses in basic theory and musicianship, jazz history, class piano, and a seminar on Mozart. Teaching was part of what PhdD students did while working towards the degree. So that's where I began with students and learning about teaching and how to do it – and finding that I really liked it.
Who were your most memorable/significant teachers?
The important teacher who fastened my wheels to the track was Floyd "Floogie" Williams. I met Floyd in the second semester of my first year at university which was mid-1970s. He had recently moved to the area from New York City where he had been a drummer and a percussionist in jazz and studio worlds.
Learning with Floyd was immersion all things musical. I couldn't possibly have had a better teacher. He had experience in the world I wanted to enter. Essentially he put one on the path towards that world.
Lessons with Floyd always included stories and more stories, all them colourful, about how this or that musician practiced and learned. And there was always an important point that came out of it all. With the piano Floyd boiled it down to one essential: Practice and practice some more.
What he meant was put in time and effort. Serious time and effort – as a method it was brute-force "put-your-back-into-it." I spent virtually every hour of the day playing Bach, and Chopin, Beethoven, and Oscar Peterson piano transcriptions or picking excerpts out of the Dover editions of scores.
Another big lesson from Floyd was to the importance of being around great pianists – to see and hear firsthand how the did what they did. So Floyd arranged for me to visit to New York City to meet John Lewis, who had who played with Charlie Parker and later formed the Modern Jazz Quartet. A few months later Floyd sent me to New York City again. This time for lessons with Jaki Byard.
Jaki is among the great pianists and teachers in jazz. He played like a one-man jazz repertory orchestra, always with allusions to different pianists and styles, all of which he juxtaposed with wit and great humour.
So for example Jaki's left hand might play in a stride piano style. But his right hand would play over it in very free bebop style – and perhaps in a different key. But the thing was, no matter what Jaki played he sounded uniquely like Jaki and never like he imitating something. Jaki was postmodern long before postmodernism was a style.
Who or what are the most important influences on your teaching?
At New England Conservatory I continued studying with Jaki and then I switched over to William Thomas McKinley who's a composer and a jazz pianist. Whereas Jaki's approach to the piano was based on play, play, and play Tom's way – because  he was a composer – was write, write, write. So I wrote excerpts and examples – I filled notebook after notebook – of what I wanted to improvise.
I also took lessons outside of NEC from Charlie Banacos who had his own fascinating teaching niche. Charlie was a great jazz pianist but he gave up performing to focus exclusively on teaching. And he was well-known as a teacher – as perhaps "the teacher. All his students first went through his two-year waiting list before lessons began. Many of Charlie's students went on to play with fabulous jazz musicians. And Miles Davis said he wanted to study with Charlie!
Most of what Charlie taught was simple in concept – for example transcribe a McCoy Tyner solo. But to do that required a lot of focused work with a tape recorder. Once the solo was transcribed, the next step was to play it at speed.
With Charlie simplicity of concept definitely wasn't the same as ease of execution. Some  of the "simple stuff" Charlie showed me a long time ago is still among what I practice now.
The big picture I synthesised from all of that which is right at the centre of how I teach is "Experiment: cast the net freely and widely." In other words explore, explore, explore – as Robert Frost said very well:
Two roads diverged in a wood, and I—

I took the one less traveled by,
And that has made all the difference.
I moved to New York City in the early 1980s after New England Conservatory and Boston. New York was exhilarating because it was populated to beyond bursting with fabulously-skilled musicians. If there's a genre or a style of music anywhere in the world someone in New York is exploring and playing it at some unbelievably high level. Probably along with an entire community of equally-skilled practitioners.
After several years of freelancing there and all sorts of gigs I completed a Masters' degree in Jazz Piano at the Manhattan School of Music. One of the classes I took there was an introduction to composition. The solo piano piece I wrote for it – along with Tom McKinley's prescriptions to write, write, write – launched me on to composing.
So I went from the Manhattan School of Music to the University of Pittsburgh for PhD studies in composition and theory. But at the time – mid-1980s – composition there was focused narrowly on serialism through the lens and teaching of Milton Babbitt. Which wasn't uncommon at that time. But it wasn't the direction the interested me so I moved on to the Hartt School of Music where there was more plurality of approach and style. That's where I completed the doctorate.
Beginning in the 1990s I taught composition, music technology, and jazz piano at the University of Maine at Augusta. From there I went to Central Washington University where I directed the music composition and theory programs. During that period I had short and long-term residencies in the United States and Europe – at the Crakow Academy of Music, STEIM in Amsterdam, the Banff Centre in Canada, and the University of California Santa Barbara, among others. And I was always playing jazz.
How do you teach?
Everyone comes to the piano and improvisation with their own interests, strengths, and abilities. So how I teach depends on the interests and experiences my students bring with them. It's very much based on what they want to learn.
I'd say what I do as a teacher is help students acquire a musical voice. That means on the one hand exploring what, why, and how we do music- and piano-related things. And being creative with whatever comes back from those questions. On the other hand it's about building as much technique as we can to support creativity. Creativity and technique are the two sides on the same coin.
Most memorable/significant teaching experiences?
I'm keen on teaching improvisation through Skype to students around the world. What's amazing to me about Skype is it works without getting in the way. So looking into my studio from a distance literally means looking through Skype.
For me, there's magic and the miraculous in working with students who literally are all around the world. Because with Skype connections to distant places don't feel distant.
From time to time I'll think "Well we're working together in realtime but there's a 12-hour time difference between us." Which to me is mind boggling. I've had some improvised, interesting two-piano duets with students on Skype.
I'd say what Skype brings out is it's the creativity and enthusiasm we bring to the learning process that counts. Which is the same for everyone really – without or with Skype. Creativity and enthusiasm are essential.
The biggest challenge with Skype has been managing clock shifts and timezones around the world. So, for example, I've since learned some countries – Iran is one and I have a fantastic student there – set their clocks to the half-hour rather than to the hour.
What do you expect from your students?
The first thing I teach is relaxation helps improvisation and playing the piano enormously. Because when we're relaxed it's easier to play and make music.
But after that expectations can easily become "it-has-to-be-this-way" or "it-has-to-be-that-way." If we can reduce "it-has-to-be-this" to as few instances as possible we're that much closer to relaxation where music and everything can seem easy. So removing expectations is about learning to play and practice in the moment with the skills we have instead the skills we wish we had.
A different example of a removable expectation is the idea that knowledge of theory – scales and chords  – precedes meaningful improvisation. The reality is thinking about theory when improvising is about as helpful as applying theory to playing anything.
Of course later or sooner theory is among the great extra stuff that broadens and deepens how we play. But as a prerequisite to improvisation – and particularly for students who come to improvisation with technique already – it's not the start point.
What are your views on exams, festivals and competitions?
I'm mostly interested in the quality of experience of the individual – instead of the quantity of quality competition judges have to quantify. The thing is, quality of experience doesn't depend on prescribed skill levels. A different way to say that is I'm focused on processes of music-making – because experience is process.
On the other hand I competed in the Thelonious Monk International Jazz Piano Competition which is the huge international one of the jazz world. I was a finalist in the the Great American Jazz Piano Competition. My Robots-in-Residence installation which I built in Denmark was a prize-winner in a competition in France. I learned a lot by being in those events and I'm glad I had those experiences.
And many pianists know competitions and such to be exactly what they want to enter into. In that case of course I'm happy to assist and support. But to the question of "are competitions and such things fundamentally part of learning to play an instrument?" my opinion is, no, they're not.
What do you consider to be the most important concepts to impart to beginning students, and to advanced students?
Being in the moment with the music we're making. Focusing on right now. To do that we have to relax. Which isn't a question of "Are we relaxed? Yes or no?" It's that relaxation is a continuum. Which means we can always bring it to deeper and deeper levels.
Also important is listening to the sound that comes from the piano. Listening to how the piano resonates. How it projects. One way forward with this  play and listen to single, sustained notes – long tones at the piano.
It's like magic but ears and mind usually then go right to the moment – because they're listening to the attack, sustain, and decay of each note and then each note after that.
How do you approach the issue of performance anxiety/tension?
We all deal with it in one way or another. I wish I knew how to banish it once and forever. But the reality probably is that's just part of music making and not really all that unusual.
My approach is to work with it in small increments – instead of looking to conquer or suppress it once and for all. Small increments could mean learning to use specific relaxation techniques of which breathing is one of them.
Breathing meaning focusing on and recognising the importance of breath while we're at the piano. And of course listening to the sound of the piano. Focusing on sound as it floats out of the piano. The more we focus on breath and sound the more we go to those worlds and then on to relaxation and the moment of "right now."
Differentiating between "practice" and "performance" mode can be helpful. Practice mode is about working out details and looking to improve "this thing" or "that thing" or both things or all things. It's intentionally focused to things such as "play these notes" or "perform that passage softly."
Performance mode on the other hand doesn't require analytic thinking. It doesn't require that we try to do something better today than yesterday. It's sitting down at the piano and being in the moment: Comfortable, and relaxed with the music we make, the sound we hear, the ability we have. Then "letting" everything flow together into a performance. Instead of "making" it flow together into the performance.
Are there any books you'd recommend to pianists or musicians or anyone interested in improvising?
The book for the desert island, assuming the piano's already been delivered, is The Listening Book: Discovering Your Own Music by W.A. Mathieu. It has listening exercises and philosophy for everyone at every level of ability and experience.
How can we contact you?
My Mark Polishook Studio website is a blog about improvising, jazz, and all things of interest to pianists. My email address is mark@polishookstudio.com.
Dr. Mark Polishook, a pianist, composer, and music technologist, teaches improvisation in his studio in Leicester and on the internet through Skype. Among his compositions is Seed of Sarah, an electronic chamber opera that was made into a film seen across North America, Europe, and Australia. As a jazz pianist Dr. Polishook has performed with many eminent artists. 
To the experimental side of sound art Dr. Polishook has worked with graphics tablets, robots, and open-source software. His Robots-in-Residence installation which he created in Denmark was a prize winner in the 2004 International Bourges Electro-acoustic Music Competition in France. 
Dr. Polishook directed the music composition and theory programs at Central Washington University. He's been a professor of jazz piano at the University of Maine at Augusta and a Senior Fulbright Lecturer at the Crakow Academy of Music in Poland. Dr. Polishook has been a resident artist in the Aarhus Computer Science Department, at STEIM in Amsterdam and at CREATE at the University of California Santa Barbara. 
He has a DMA in Music Composition from the Hartt School of Music, a masters' degrees from the University of Pittsburgh and the Manhattan School of Music. His undergraduate degree is from the New England Conservatory of Music.